Friendly Notice.
Posted on 2007.05.08 at 11:03
Current Location:
*snuggling puppets*
Current Mood:
cranky
Greetings. Some of you may have noticed that my journal hasnt been real active lately. I apologize for that as its been finals week here at Uni. Art Finals can be a little precarious so I have a million art projects and nothing to really show you yet. Its very much how it goes I guess. I normally end up posting a bunch of art all at once. But I think that has to do with the fact that I'm always making so many things at once and they always seem to finish all at the same time.

That said I also have to say that I'm very sick right now so its very difficult for me to do any work. Most people know I'm disabled and I have really bad health problems. Which I hope would explain some of my art work.

Anyway I guess thats it. I'm going to post a stationary picture of my darling puppets because I love them so much and I'm really sad no one liked them. I plan to give them legs and make them full dollies. They deserve it.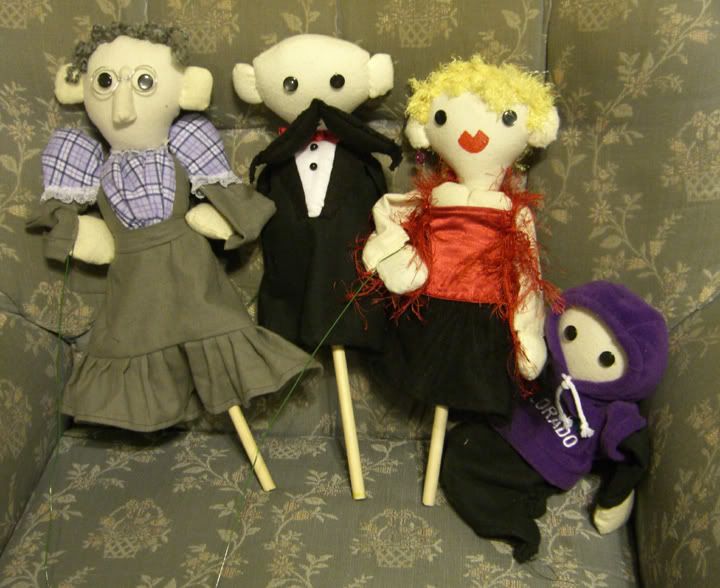 Agusta, Horace and BabyDoe. The little guy is unfinished and un-named. I wanted to make one of Oscar Wilde too but I ran out of time. So I mite do that now when I give them legs. I love my puppets and perhaps I'll post pictures of them when they are full dolls. On a Dolly related note, I found a yarn perfect for Lupin Dolly and I think I mite have an idea of how to finnally make him. We shall see what happens.

I have the whole summer to finish projects and make new ones despite the time I'm going to bein Belgium for my friends Graduation. even then I'm always working on something.

I will post more soon, I promise!