Holy crap paintings?!
Posted on 2007.05.15 at 02:34
Current Mood:
discontent
I managed to do about a half and hour to and hour work on two paintings.... jesus it hurt.... nothing I'm doing is turning out how I expect...
I have no control over my art anymore.... I have no fucking clue where this one comes from besides feeling like I'm on fire...
I'm tempted to keep it mostly like this. Well I think I need to cover the top white corner. Im not sure. comments-seggestions welcome.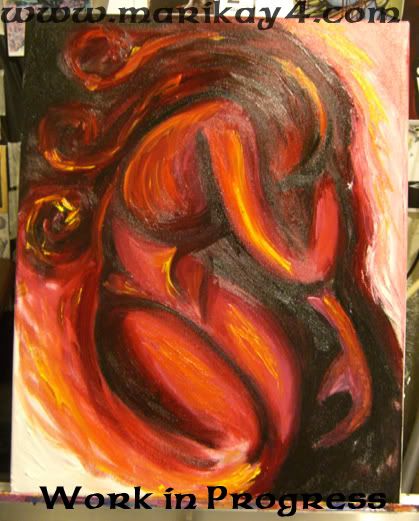 Second one is round 3 on the medicated Medusa. Basickly just adding black where there needed to be some. I think she needs one dark green round and a final light round and she mite be finished. Pretty close. I have several that fall under "pretty close"
I have to seriously consider working smaller. I dont have the strength for this size anymore. but at the same time working small is difficult because of my shakes and stuff. I guess this is how it goes. I struggle for a expresionistic realism yet this is what I'm getting. This above picture.
I think I have to fix her boosum. Its a little too big to be mine. lol. So round and perky for someone so sick. I want some serious detailtouch ups on the snakies. If I could just find the strength.
remember I want something similar to this....(The impressionistic girl on the box. a painter from Finland I have not yet been able to get the name of)
If you saw it up close shes not perfectly smooth. you can see brush strokes but it doesnt mater. what is paint for if you cant see it on the canvas.
EDIT: We found him! Albert Edelfelt, Finnish Painter from Joensuu.
Also, thank you to Steerpikes sister for noticing an serious error on my part.
anyone believe in rencarnation? because I have this obsession with thick paint like VanGogh.... who also used to suck on his brushes why he worked....
(BAD BAD! DONT DO IN OIL!)
anyway....
comments esp now would be great.
I feel like my art is dieing.
Dieing with me.